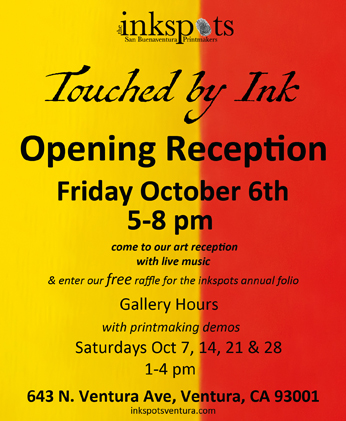 The Wildling Museum of Art and Nature is pleased to announce its upcoming exhibition, Close to Home, Three Printmakers, featuring artists Claudia Borfiga, Karen Schroeder, and Sara Woodburn, on view in the Valley Oak gallery from October 9, 2021 – February 2022. The public is invited to meet the artists on Sunday, October 17, 2021 from 3 – 5 p.m.
The works of Borfiga, Schroeder, and Woodburn center on a recurring theme of nature as a place of solace and beauty where growth and change can seem intimate or expansive. Layers of color, pattern, and printmaking are the dialogue these artists use to share stories of Earth. They value natural areas and seek to bring inspiration to the viewer.
For this exhibition Claudia Borfiga was inspired by new landscapes and plants, capturing her joyfulness in places like Ganna Walksa Lotusland, the Carrizo Plain National Monument, as well as Joshua Tree and Sequoia National Parks. These new works also mark a transition in her process. "After many years making screen prints using stencil exposure, I've recently been exploring mono screen printing; something that feels closer to drawing or painting, freeing me to be more gestural, impulsive, and playful," says Borfiga. "These prints capture an environment I'm in constant awe of."
For Karen Schroeder, her work allows her to become a narrator through her series of new woodblock prints. The story is one of connections, a binding thread between humans and the natural world. "My prints are a graphic story, a personal vision of the natural world, and one I love to share," says Schroeder.
Sara Woodburn will present a year-long series of monthly "Quarantine Garden" woodblock prints capturing the changes and visitors to her backyard garden in Santa Barbara, as she narrowed her daily attentions waiting for a return to "normal" over the last year and a half. "The waiting for a return to a 'normal' life is palpable, but bringing my attention to what is right outside and taking notice is beautiful and satisfying," says Woodburn.
These three artists each provide distinct perspectives on the art of printmaking. Also included in the exhibition will be a display of the different tools used in their individual printmaking processes, as well as insight into how different style prints are created.